Film's advance publicity says: 'We the people demand an independent investigation into the tragic events of 9/11'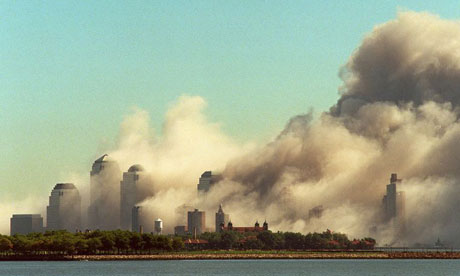 Manhattan in the wake of the 9/11 attacks. Photograph: Reuters

Hollywood is to court controversy with a film that will challenge the official version of the events of 9/11, a previously taboo topic for the industry mainstream. Martin Sheen, Woody Harrelson and Ed Asner, who have all supported conspiracy theories about the terrorist attacks, have signed up to the movie, which is entitled September Morn.
Styling itself as a drama in the tradition of Twelve Angry Men, the film's advance publicity note hints at a cover-up, saying: "We the people demand that the government revisit and initiates a thorough and independent investigation to the tragic events of 911."
Details of the film, which is to be directed by BJ Davis and written by Howard Cohen, are expected to be revealed at an American Film Market conference in Los Angeles next week, Deadline.com reported.
The production has been set up by Fleur de Lis Film Studios, which has also made the documentary A Noble Lie, about the Oklahoma City bombing, and Operation: Dark Heart, a feature based on an intelligence agent's memoirs.
Until now Hollywood has steered clear of claims that the Bush administration, or other elements in the government, may have been behind the 9/11 attacks, in which hijacked passenger planes crashed into the Twin Towers of the World Trade Center, the Pentagon and a field in Pennslyvania. The fourth plane was apparently en route to the Capitol.
Oliver Stone, who has challenged official history in JFK and other films, steered clear of conspiracy theories in his 2006 film World Trade Center, which focused on the heroism of police and rescuers.
September Morn has assembled a cast linked to the so-called truther movement, which alleges official inconsistencies, complicity and cover-up.
Sheen, who starred in Apocalypse Now and television's The West Wing, has long questioned whether Islamist hijackers single-handedly brought down the Twin Towers, killing 2,605 people.
"I did not want to believe that my government could possibly be involved in such a thing, I could not live in a country that I thought could do that – that would be the ultimate betrayal," he told an interviewer in 2007.
Sheen grew suspicious after his son Charlie, also an actor, alerted him to apparent contradictions, such as how a structure known as "Building 7" fell.
He said: "However, there have been so many revelations that now I have my doubts, and chief among them is Building 7 – how did they rig that building so that it came down on the evening of the day?"
Asner, who has won seven Emmys, has several times urged a new investigation into 9/11. In 2010, he told an interviewer: "This country – which is the greatest, strongest country that ever existed in the world, in terms of power – supposedly had a defence that could not be penetrated all these years. But all of that was eradicated by 19 Saudi Arabians, supposedly. Some of whom didn't even know how to fly."
Harrelson, who starred recently in The Hunger Games, has also supported the self-styled 9/11 truth movement.
September Morn is also the name of a Neil Diamond album and a painting by the French artist Paul Émile Chabas which hangs in New York's Metropolitan Musuem of Art.
Rory Carroll in Los Angeles, guardian.co.uk