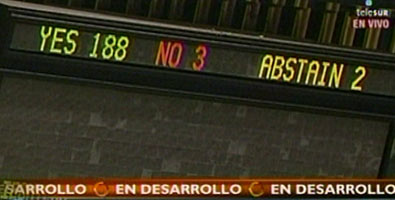 A record 188 countries voted on Tuesday for an annual UN General Assembly resolution condemning the five-decade old US embargo against Cuba. The vote in favor rose from 186 for the 20th anniversary resolution last year.
Cuba's foreign minister said the blockade against country was tantamount to "genocide."
For the 21st year, the assembly's vote was overwhelming, with 188 nations – including most of Washington's closest allies – against the embargo, a result virtually unchanged from last year.
Israel, heavily dependent on US backing in the Middle East, and the tiny Pacific state of Palau were the only two countries that supported the United States in opposing the non-binding resolution in the 193-nation assembly. The Pacific states of the Marshall Islands and Micronesia abstained.
Obama has not lifted the five-decade-old trade embargo, and the imprisonment of a US contractor in Cuba has halted the thaw in Cuban-US relations. Havana's Foreign Minister Bruno Rodriguez told the assembly that Cuba had high hopes for Obama when he was first elected in 2008 and welcomed his calls for change. But he said the result had been disappointing.
"The reality is that the last four years have been characterised by the persistent tightening of… the embargo," he said.
Rodriguez said the "extraterritoriality" of the blockade measures – the fact that Washington pressures other countries to adhere to the US embargo – violates international law.
He added that the blockade is not in US interests and harms its credibility.
"It leads the US to adopt costly double standards," he said, adding that the embargo has failed to achieve its objectives of pressuring the government to introduce economic and political freedoms and comply with international human rights standards.
"There is no legitimate or moral reason to maintain this embargo that is anchored in the Cold War," he said.
He said it qualified as a "act of genocide" against Cuba and was a "massive, flagrant and systematic violation of the human rights of an entire people."
Reuters and Agencies