It remains to be seen if Assad will choose to ignore this latest attack, believing that slight humiliation in the media is still preferable to a direct confrontation with Israel.




The American cable news network CNN reported Friday that it was Israel that was behind the series of explosions in the Syrian port of Latakia on the night of July 5. According to the report, which corroborates an earlier report from an Arabic news website, the attack was aimed at destroying Russian Yakhont anti-ship cruise missiles. Israel has yet to respond to the report.
The Arabic and international press reported on a series of explosions early on July 6th in the port located on the shores of the Mediterranean in northern Syria, but made no mention of who might be responsible for the blasts.
The press coverage of this incident was rather minor, mostly because of the drama that was taking place at the time in Egypt, where the Muslim Brotherhood was confronting the Egyptian military that had forcibly ejected Mohammed Morsi's government from power.
Two days later the Syrian website Al-Hakika, associated with the Syrian opposition, reported that the attack was orchestrated by Israel in order to destroy warehouses in which Yakhont missiles were held.
Israeli Defense Minister Moshe Ya'alon evaded the subject when asked about it last Tuesday while visiting Tze'elim, an Israeli Defense Forces' base in southern Israel. "We have set red lines in regards to our own interests, and we keep them. There is an attack here, an explosion there, various versions – in any event, in the Middle East it is usually we who are blamed for most."
In its report, CNN quoted numerous American government officials, but did not reveal their names. Those officials say that the explosions in question were the result of an Israeli airstrike, and this is currently the consensus regarding the circumstances surrounding the blasts.
Last May, it was also Pentagon officials that indicated that Israel was responsible for an airstrike, the second of four strikes in Syrian territory that have been associated with Israel this year.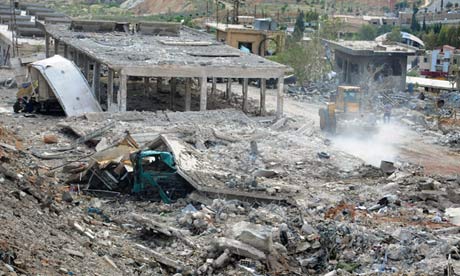 The first Israeli airstrike took place in late January, and it targeted a Syrian Army industrial facility located between Damascus and the Lebanese border. A convoy carrying SI-17 advanced anti-aircraft missiles was destroyed.
In early May, two other airstrikes took place, two days apart, both targeting shipments of Fatah-110 midrange cruise missiles coming into Syria from Iran.
According to some reports, those missiles were equipped with advanced satellite navigation systems, which drastically increased their accuracy. Israel has not claimed responsibility for any of those strikes, Ya'alon, and his predecessor, former Defense Minister Ehud Barak, hinted at Israel's role in the strikes on numerous occasions. It seems that the strikes were meant to prevent those weapons from reaching Hezbollah.
As Ya'alon stated earlier this week, Israel has publicly declared red lines regarding Syria. The lines set by Ya'alon, Barak before him, and Prime Minister Benjamin Netanyahu, include allowing Assad's chemical weapons fall into "irresponsible hands," transfer of advanced weapon systems to Hezbollah (a list which has thus far included SI-17 and SI-22 anti-aircraft missiles, as well as the Yakhont), and the formation of a "terror front" on the Syrian side of the Israeli border in the Golan Heights. Israel has also expressed great concern over the idea Russia will complete its arms deal with Syria, and supply Assad's army with the new S-300 air defense system.

Lately, in light of the Assad's close cooperation with Iran and Hezbollah, and the support they have shown the Syrian president, concerns have increased among western governments that Assad will reward his friends with advanced Russian weapons. Israel has said that this would be a "game changer" on the Lebanese front.
The Yakhont missile especially troubles Israel, as a launch from Lebanon or Syria could accurately hit Israeli infrastructure in the Mediterranean Sea, or on the coast itself. Yakhont missiles in the wrong hands would endanger the power plane in Hadera, natural gas infrastructure in the Mediterranean, or activity at Israel's ports in Haifa or Ashdod.
If indeed it was Israel that attacked last week, the attack has largely flown under the radar, at least until the CNN report. After the two suspected Israeli attacks in May, Assad clearly stated that he would not ignore another Israeli infraction, and Israel would pay a heavy price for any attack. Assad hinted then that he was considering opening a terror front in the Golan Heights.
The fact remains that if CNN is correct regarding the identity of last week's attacker, Assad must know it as well, and if he chooses to ignore this attack as well, we can learn that he still has no intention of directly confronting Israel, despite his aggressive declarations. Assad's silence relies upon his ability to comprehensively deny the attack, much like in the past, and totally ignore the violation of Syrian sovereignty.
The CNN report makes comprehensive denial rather difficult – but it comes rather late, more than a week after the incident took place. During the coming days, it remains to be seen if Assad, who is concentrating all his efforts at putting down the fierce rebellion within Syria, will choose to ignore this latest attack, believing that slight humiliation in the media is still preferable to a direct confrontation with Israel.
By Amos Harel, Haaretz