Lew received $900,000 bonus after bailout and played a role in betting against the housing market, triggering subprime crisis.
President Obama's pick to replace Timothy Geithner as Treasury Secretary has his own baggage.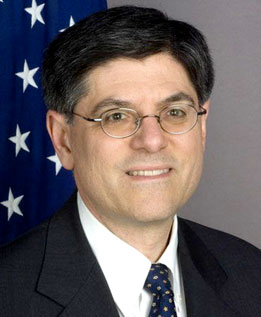 Jacob Lew has now been chosen for Secretary of the Department of the Treasury, after playing musical chairs in Obama's cabinet, shifting from Budget Manager (OMB) to Chief of Staff, the position he currently holds. Lew was previously mentioned on Obama's short list for Treasury once Geithner steps down.
He is, predictably, also a member of the Council on Foreign Relations (CFR), the Brookings Institute and other top globalist confab circles.
But Lew has already come under fire for receiving a $900,000 bonus immediately following the 2008 financial crisis on top of $1.1 million in compensation for his job as Chief Operating Officer at Citigroup, shortly after it saw $27.7 billion in losses and received some $45 billion in bailout money under TARP.
Worse, Mother Jones documents how Jacob Lew presided over the Citigroup unit, Alternative Investments, "that made money by betting against the housing market as it prepared to implode." Lew's tenure reportedly included doubling the firm's investment's in Paulson Advantage Plus LP which was operated by "hedge fund king John Paulson, the man who made billions off the deterioration of the housing industry."
Along with Goldman Sachs' role in betting against AIG, it played a major role in exacerbating the subprime mortgage crisis, which in turn triggered the larger financial crisis that we were told necessitated the bailout.
So why do we keep allowing Washington to put those who got us into this crisis in charge of getting us out of this crisis?
Obviously, the decision matches the definition of insanity coined by Albert Einstein, which he defined as "doing the same thing over and over again and expecting different results." Worse, it amounts to Stockholm Syndrome on a mass scale, where the nation has continually put up with, even if it has not loved, its captors who've long since taken over in Washington on behalf of the crony capital interests that dominate matters.
More recently, Lew has been credited as the 'chief negotiator' and go-between for Obama and Boehner during the "fiscal cliff" budget theater that grabbed headlines over the holidays but actuallyincreases taxes for some 77% of Americans while the agreement spends $41 for every $1 of the much touted budget cuts. Once again, we see that these experts are only making matters worse and have no reasonable expectation of solving the problem.
Senator Jeff Sessions (R- Ala) has come forward to boldly oppose Lew's nomination, stating "Jack Lew must never be Secretary of Treasury."
Sessions claims Lew misrepresented Obama's 2012 budget by claiming that it did not add to the debt. "His testimony before the Senate Budget Committee less than two years ago was so outrageous and false that it alone disqualifies." Sessions predicts that the Senate will not confirm Lew if the nomination moves forward.
Lew also held numerous positions during the Clinton Administration, and was instrumental indrafting legislation to expand AmeriCorp under Bill Clinton and further served as co-chair of thefounding board of City Year New York, both of which are related groups in a chain of executive directed volunteers that Barack Obama and Rahm Emanuel have vowed to transform into a civilian national security force 'just as strong and just as well funded' as the military.
Aaron Dykes
Infowars.com
January 9, 2013