"Much that is now unthinkable may at least become thinkable." Julian Huxley, brother of Brave New World author Aldous Huxley and president of the British Eugenics Society (1959–62), said this when he founded and was Director-General (1946–48) of UNESCO (the United Nations Educational Scientific and Cultural Organisation). The mandate for the new organisation was set out clearly in Huxley's 1946 UNESCO: Its Purpose and Its Philosophy:
"The moral for UNESCO is clear. The task laid upon it of promoting peace and security can never be wholly realised through the means assigned to it—education, science and culture. It must envisage some form of world political unity, whether through a single world government or otherwise, as the only certain means of avoiding war […] in its educational programme it can stress the ultimate need for a world political unity and familiarise all peoples with the implications of the transfer of full sovereignty from separate nations to a world organisation. [Emphasis added]"
What Huxley was describing was a stark vision of the post-war future. It is a future that is now upon us with the post-Covid-19 Great Reset that is being formulated by Klaus Schwab and the World Economic Forum oligarchy. Huxley advocated that "genetic stupidity, physical weakness, mental instability and disease proneness" were a "dead weight" for the human species and an obstacle to real progress:
"At the moment, it is probable that the indirect effect of civilization is dysgenic instead of eugenic, and in any case it seems likely that the dead weight of genetic stupidity, physical weakness, mental instability and disease proneness, which already exist in the human species will prove too great a burden for real progress to be achieved.

Thus, even though it is quite true that any radical eugenic policy will be for many years politically and psychologically impossible, it will be important for UNESCO to see that the eugenic problem is examined with the greatest care and that the public mind is informed of the issues at stake so that much that is now unthinkable may at least become thinkable."
Canadian historian and author Matt Ehret has pointed out that:
Even though thirty U.S. States and two Canadian provinces had legalised eugenics policies (including forced sterilisation of the unfit) between 1907 [and] 1945, the statistical science and political application of eugenics ground to a screeching halt by the end of World War II and, as Huxley iterated in his manifesto, something new had to be done.
Ehret maps out Huxley's relationship with the London Tavistock Clinic (1930–50; not to be confused with the still-extant Tavistock Institute of Human Relations, nor with the present-day Tavistock and Portman Foundation NHS Trust, which oversees mental health services in North London and which was recently the subject of a UK Column interview).
The Tavistock Clinic of the 1930s and 1940s was led by a psychiatrist, Colonel (later Brigadier-General) John Rawlings Rees—a strategic planner of mental health who has been of interest to Brian Gerrish and other UK Column authors for over a decade. Tavistock as a broad undertaking can be best understood, Ehret writes, as the "psychiatric branch of the British Empire established in 1921 which innovated psychiatric techniques using mixtures of Pavlovian behaviourism and Freudian theories to influence group behaviour in a variety of ways."
Rees was joined by a Canadian psychiatrist named George Brock Chisholm. In 1948, Chisholm founded a UN-affiliated body called the World Health Organisation (WHO) with the aim of allegedly promoting mental and physical health of the world. As Ehret points out, Chisholm's mission was effectively the eradication of monotheistic religion, family and patriotism. Eight years after the WHO was founded, Chisholm stated:
To achieve world government, it is necessary to remove from the minds of men their individualism, loyalty to family tradition, national patriotism and religious dogmas.
With the WHO and UNESCO established as partners in the endeavour to make the unthinkable thinkable, a third organisation entered the cartel. The World Federation of Mental Health was also created in 1948, and put in charge of it was none other than Brigadier-General John Rawlings Rees—appointed to the post by Montagu Norman, Director of the Bank of England and co-founder of the Bank for International Settlements, who had created the World Federation as an extension of his own British National Association for Mental Health.
Jim Keith, author of Mind Control, World Control: The Encyclopedia of Mind Control, writes:
"The relation of eugenics to British psychiatry bears examination. The primary controlling body for psychiatry in England is the British National Association for Mental Health (NAMH), formed in 1944, and initially run by the mentally unstable Montagu Norman, previously of the Bank of England. The group originally met at Norman's London home, where he and Nazi Economics Minister Hjalmar Schacht had met in the 1930s to arrange financing for Hitler.
The U.S. technical coordinator to the conference that created the WFMH made the new organisation's origins clearly known. Nina Ridnour wrote that "the World Federation for Mental Health […] had been created upon the recommendation of the United Nations World Health Organization and UNESCO because they needed a non-governmental mental health organisation with which they could cooperate."
Matt Ehret's 2021 article How the unthinkable became thinkable: Eric Lander, Julian Huxley and the awakening of sleeping monsters describes the unthinkable alliance thus:
"Over the ensuing years, UNESCO, the WHO and WFMH worked in tandem to coordinate hundreds of influential sub organisations, universities, research labs, and covert science including the CIA's MK Ultra in order to bring about the desired "mentally healthy" society cleansed of its connections to Christianity, faith in truthfulness, national patriotism or family."
This is not merely of historical interest. A recent article in The Conservative Woman aptly describes the Great Reset as the Great Regression:
"Eugenics (the devaluing of life into a commodity) is a growing theme in the propaganda of the globalists. You and I are disposable entities, with limited use. If not functioning well enough to provide the labour, service and taxes they want, and becoming a burden on the state, then why not kill us off?"
Death reborn: Canadian Medical Assistance in Dying (MAiD)
In 2016, Canada, with Justin Trudeau's administration in office, passed Bill C–4, legalising medical euthanasia and physician-assisted suicide—together referred to by Canadian public bodies as medical assistance in dying (MAiD). By November 2020, more than 19,000 individuals nearing the end of life had been voluntarily euthanised.
In March 2021, the law was amended by Bill C–7, which permits assisted euthanasia for patients whose death is not reasonably foreseeable. In 2021, it is estimated that more than 10,000 people were assisted in killing themselves in Canada.
The Canadian federal expert panel on the application of MAiD for mental illness has recommended mental illness be grafted onto the MAiD framework without any legislative changes in March 2023. The first report of the federal special joint committee on MAiD suggests it will not only ignore all the problems caused by MAiD, but also further entrench and expand MAiD in Canada.
It was anticipated in an article in the Psychiatric Times when Bill C–7 was new that the legislative change would provide, not prevent, suicide for some mentally ill patients. The article highlighted the threat to ethical norms in psychiatry and reviewed comparable laws in various other countries:
"Currently, several countries, such as Belgium, the Netherlands, Luxembourg, and Switzerland, allow patients who are suicidal to receive death by either lethal injection (euthanasia) or a self-administered prescription for lethal medication (assisted suicide). In 2002 Belgium, the Netherlands, and Luxembourg (all three [being] collectively known as Benelux) legalised both these practices. Laws in those countries permitted voluntary death for patients whose physical or psychological suffering was unbearable and could not be effectively treated by means that were acceptable to them. A terminal condition was not a necessary criterion."
According to the article, this led to psychiatric patients having suicide, rather than preventive therapy, provided to them. Between 100 and 200 patients with psychiatric disorders are being euthanised annually in Benelux as a whole.
In concerned response to those developments abroad, the American Psychiatric Association issued a position statement in 2016:
A psychiatrist should not prescribe or administer any intervention to a non-terminally ill person for the purpose of causing death.
The traditional role of a psychiatrist is to prevent patient suicide. The changes to assisted suicide laws, particularly in Canada, threaten to override these ethical standards.
Mental illness is something that many people struggle with, especially in an increasingly oppressive and disenfranchised dystopia that has been rolled out in the form of the Covid–19 response.
These Covid consequences include lockdown, mandatory vaccination, harsh economic sanctions against dissidents and increased homelessness, child abuse, depression, drug abuse—and, yes, suicide, associated with the disproportionate measures to curtail a virus promoted as a 'deadly pandemic'.
The Ottawa régime of WEF Young Global Leader Trudeau—Liberals and Nazi sympathisers aided by the Bloc Québecois—forcibly shut down debate and passed Bill C–7, which included the amendment approving euthanasia for those suffering exclusively from mental health issues—issues in many instances brought on or exacerbated by the Trudeau lockdown package during the Covid two-year madness that began in early 2020.
Carla Qualtrough, Federal Minister of Employment, Workforce Development and Disability Inclusion, has recently expressed her disquiet at the Canadian status quo:
[I]t should not be easier to access a medically assisted death than to get a wheelchair—but it is.
Experts have been predicting a "pandemic" of mental illness and depression as a result of the Covid–19 project, and now that it has materialised, the same governments that introduced the measures designed to send their populations into a psychiatric free-fall are now offering suicide—funded and facilitated by the state and by not much else. In Canada, there is virtually no alternative palliative care available; the fast track is to death. Alex Schadenberg of the Euthanasia Prevention Coalition summed up Bill C–7 as follows:
Bill C–7 removed the requirement in the law that a person's natural death be reasonably foreseeable in order to qualify for assisted death. Therefore, people who are not terminally ill could die by euthanasia. The Truchon decision only required this amendment to the law, but Bill C–7 goes further.
Bill C–7 permits a doctor or nurse practitioner to lethally inject a person who is incapable of consenting, if that person was previously approved for assisted death. This contravenes the Supreme Court of Canada Carter decision, which stated that only competent people could die by euthanasia.
Bill C–7 waives the ten-day waiting period if a person's natural death is deemed to be reasonably foreseeable. Thus a person could request death by euthanasia on a "bad day" and die the same day. Studies prove that the "will to live fluctuates".
Bill C–7 creates a two-track law. A person whose natural death is deemed to be reasonably foreseeable has no waiting period, while a person whose natural death is not deemed to be reasonably foreseeable would have a 90-day waiting period before being killed by lethal injection.
Bill C–7 (originally) falsely claimed to prevent euthanasia for people with mental illness. The euthanasia law permits MAiD for people who are physically or psychologically suffering that is intolerable to the person and that cannot be relieved in a way that the person considers acceptable. However, mental illness, which is not defined in the law, is considered a form of psychological suffering. Now that parliament amended Bill C–7 to specifically permit euthanasia for mental illness, at least the charade has lifted.
Canada leading the way in global depopulation campaign?
Ontario resident Fred Haight points out the confusion over the terminology surrounding assisted death:
"Statistics on euthanasia can be confusing, as there are many different forms of it.
"Passive euthanasia" refers mostly to the patient's supposed "right" to refuse "extreme" life-saving measures in the event of a heart attack, or other emergency.
"Physician-assisted suicide" refers to when doctors give prescriptions to patients that will allow them to end their own lives.
"Voluntary Active Euthanasia" refers to when a physician kills the patient, with consent, usually through lethal injection.
"Involuntary Active Euthanasia" is when a doctor makes the decision for the patient.
These all get blurred, as one might expect."
In the neighbouring USA, to the best of Haight's knowledge, ten states and the District of Columbia have enabled "physician-assisted suicide" where the doctor prescribes the fatal medications.
Often, a life expectancy of less than six months is a requirement. Of the other forty states, thirty-six have outlawed it and four have no clear laws on the matter. Active euthanasia is currently outlawed in all fifty states and in D.C. (Statistics are from July 2022.)
Haight describes the procedure as physician-implemented homicide, not physician-assisted death. The actual procedure is as follows:
Step 1: Midazolam 10–20 mg 2–4 ml of 5 mg/ml preparation (pre-anaesthetic, induces sleep in 1–2 minutes).
Step 2: Lidocaine 40 mg 4 ml of 1% preparation; pause to allow effect (reduces possible burning in a peripheral vein due to Propofol).
Step 3: Propofol 1000 mg 100 ml of 10 mg/ml preparation (loss of consciousness within ten seconds, induces coma in 1–2 minutes; death may result from the Propofol but Rocuronium is always given.).
Step 4: Rocuronium 200 mg 20 ml of 10 mg/ml preparation (cardiac arrest after Rocuronium injection usually occurs within five minutes of respiratory arrest).
Abuse of medical ethics and vulnerable patients at risk of choosing death over palliative care
Dr Ramona Coelho is a Canadian family physician whose practice specialises in the care of patients living with mental illness and disability. She was an expert witness before the House and Senate committees examining the bill to extend MAiD, and appeared as an expert before the federal special joint committee on MAiD. She is a founding member of Physicians Together With Vulnerable Canadians.
In July 2022, the London Free Press (Ontario) published an article by Coelho entitled Medical assistance in dying overused in Canada even before expansion. Coelho gives clear examples of MAiD abuse based on evidence provided by doctors, a patient and family members:
"A man was admitted to hospital after suffering a small stroke affecting his balance and swallowing. He was feeling down and isolated due to a COVID-19 outbreak on his ward. The stroke neurologist anticipated he would be able to eat normally and regain most of his balance. Psychiatry diagnosed an adjustment disorder but noted his prognosis was very good. The patient then requested MAiD. Neither of his MAiD assessors had expertise in stroke rehabilitation and recovery. Because he was temporarily eating less, the MAiD assessors decided he could die right away instead of waiting the required 90 days for those living with disabilities despite having no terminal co-morbidities. He received MAiD the following week. This man died alone and depressed and before he had tried proper therapy or reached maximal recovery."
"A 71-year-old widower was admitted to a Southwestern Ontario hospital after a fall. His family says that during his admission he contracted an infectious diarrheal illness. He was humiliated by staff for the smell of his room, his family said. He developed a new shortness of breath that was not comprehensively assessed. In this context, a hospital team member suggested he would qualify for MAiD. The team said he had end-stage chronic obstructive pulmonary disease and it was terminal. The patient was surprised by the diagnosis but trusted the team. Within 48 hours of his first assessment, he received a medically assisted death. Post-mortem testing showed he did not have end-stage COPD. His family doctor, when notified of his death, also stated he did not have end-stage COPD, but the team had failed to contact her when they were assessing his history."
The level of coercion involved in these decisions by vulnerable patients in a weakened and perhaps severely humiliated state is terrifying. The decisions were evidently also based on inaccurate information; an abuse of trust by the medical professionals involved.
As Coelho points out, "[t]here is no safeguard in the legislation that protects marginalised Canadians (victims of ageism, racism, or ableism) from MAiD being raised as a 'treatment option'".
Coelho describes the normalisation of MAiD by media outlets: CTV ran a W5 story showcasing a man's MAiD provision. A patient of Coelho's let her know that the story was very appealing and that MAiD might be a good option for her. Coelho explained:
This patient is in her midlife and has a recent onset mild spinal cord injury [for] which she hasn't had time to adjust, receive any peer support or proper symptom control. She would prefer to die than be poor and she is aware the government won't provide what she needs to live with her new disability.
Unlike other countries that have legalised assisted euthanasia, Canadian doctors are apparently not obliged to focus on alternative medical or social-support options that will relieve patient suffering; they are enabled to offer death as the primary solution.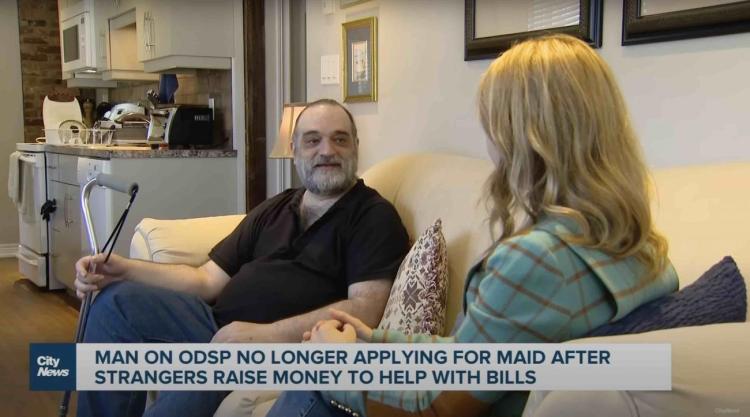 By Vanessa Beeley
Published by The UK Column
Republished by The 21st Century
The views expressed in this article are solely those of the author and do not necessarily reflect the opinions of 21cir.com.