Saudi and Qatari funded Free Syria Army and al-Qaeda terrorists are being trained to assassinate Syrian leader Bashar al-Assad and his military leaders, the Daily Star reports today.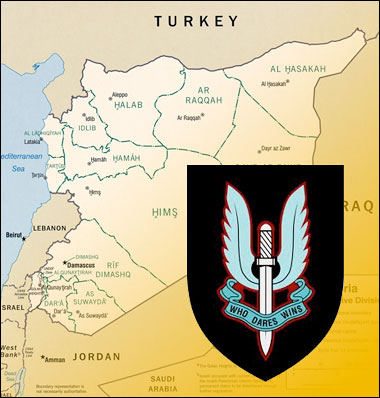 The newspaper reports British SAS, SBS and troops from the Special Reconnaissance Regiment are inside Syria "helping show insurgents how to use new weapons and explosives" and "train rebel assassination squads to target President Assad and his warlords."
The British Chief of the Defense Staff,General Sir David Richards, said contingency plans are being drafted, including "limited" intervention by British troops in "areas where assistance was being provided," the Press Association reports.
Britain considers itself a "full-spectrum player" in the Middle East. It was at the forefront of the military intervention in Libya that resulted in the death of more than 30,000 people.
The Telegraph reported on Saturday that the United States has balked at prime minister David Cameron's proposal to further assist the FSA and al-Qaeda following reports that the CIA and MI6 supported mercenaries are killing unarmed civilians. The FSA has admitted killing civilians and captured Syrian soldiers.
According to the CIA-engineered propaganda outfit, the Voice of America, U.S. intervention in Syria is more urgent now that "extremist Islamist elements" are taking a more active role in Syria.
"The balance of forces in the Syrian opposition is such, that as time goes by and the radical Islamists are the ones who always seem to have the money and always seem to have the weapons, they will become much more dominant in terms of that opposition.
That does not serve American interests and it certainly doesn't serve the interests of stability in the region," Dennis Ross told VOA.
Ross is a member of both the CFR and the Trilateral Commission. He works with the Washington Institute for Near East Policy, an Israel-centric think tank closely related to the American Enterprise Institute and other neocon organizations.
In September, al-Qaeda and the FSA offered a reward of $25 million for the assassination of al-Assad. Turkey's Anadolou news agency quoted FSA commander Ahmad Hijazi as saying the money would be paid by "supporters and businessmen" abroad.
Saudi Arabia and Qatar are spending tens of millions of dollars to support the effort to depose and kill al-Assad.
Military aid is brokered through Turkey and "a secretive group operates something like a command center in Istanbul, directing the distribution of vital military supplies believed to be provided by Saudi Arabia and Qatar and transported with the help of Turkish intelligence to the Syrian border and then to the rebels."
In October, Turkey attacked Syria with artillery after Syria targeted FSA and al-Qaeda mercenaries on the border.
Kurt Nimmo
Infowars.com
November 11, 2012