"Navalny is Working for Cia: Kremlin Makes Explosive Allegation After Fake-Poisoning"
By Rt.com
Western intelligence agencies – in particular, agents from the American CIA – are working with Russian opposition figure Alexey Navalny, Vladimir Putin's spokesman alleged on Thursday.
"Probably, it is not the patient [Navalny] who works for the Western special services, but that the Western intelligence services who work with him – this would be more correct [to say]," Dmitry Peskov explained. "I can even be specific: these days, specialists from the Central Intelligence Agency (CIA) of the United States of America are working with him."
"This isn't the first time he's been given different instructions,"the spokesman continued. "The instructions given to the patient are obvious. We have seen such patterns of behavior on more than one occasion."
The bombshell allegation comes just hours after Navalny claimed Putin was behind his alleged poisoning in August. He told Germany's Der Spiegel magazine that he had"no other explanation for what happened."

Peskov took umbrage at the activist's comments alleging Putin's involvement in the incident, dismissing them as"baseless"and"insulting."He told reporters"we believe that such accusations against the Russian president are absolutely unfounded and unacceptable."  
Navalny, Deep State Agent in Russia, in Novichok Berlin-Warsaw Plot Revealed by Belarusian Intel
German officials alleged, last month, that Navalny had been targeted with a nerve agent from the 'Novichok' family.
"We want to investigate the case of the Berlin patient [Navalny] and establish the cause of what happened,"Peskov explained, expressing doubt about the veracity of the German analysis."For this, we need to get information from those who found traces of poisoning."
The Kremlin has previously complained that Berlin has been uncooperative in providing evidence that the Moscow protest leader had indeed been attacked with Novichok.
UKRAINEGATE, CIA-DEEP STATE'S PLOT AGAINST TRUMP with two whistleblowers and Italian ties
Peskov also commented on Navalny's intention to return to Russia, as expressed to Der Spiegel, observing that he saw no heroism in his declaration.
"Any citizen of Russia can return to his homeland at any time,"the spokesman outlined."Treatment can take place in our country, in fact, almost all people avail of this. Lives are saved in our country, and the life of this patient was also saved in Russia." 
This refers to when Navalny had initially been hospitalized in Siberia
Alexei Navalny was in a coma from August 20 to September 7, after falling ill during a flight to Moscow from Tomsk. First, he was hospitalized in Omsk, after an emergency landing, before being transported to Berlin's Charité clinic days later.
After making a speedy recovery (taking into account the alleged lethality of Novichok), the anti-corruption activist was discharged last week.
***
By Bryan MacDonald for Russia Today
Published by Russia Today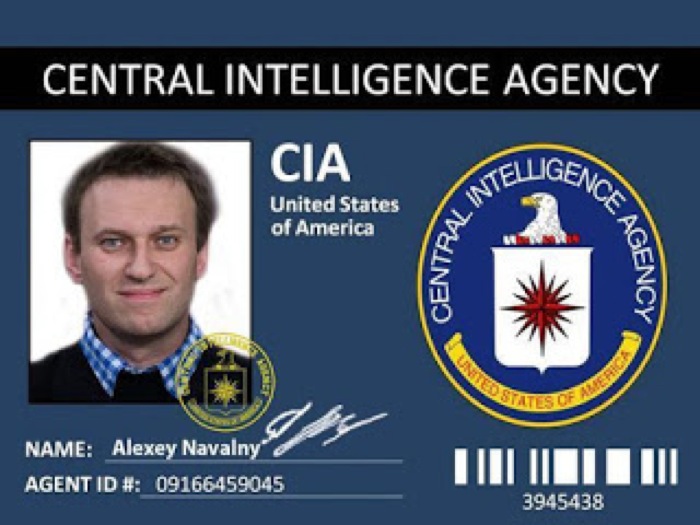 Republished by The 21st Century
The views expressed in this article are solely those of the author and do not necessarily reflect the opinions of 21cir.
A related news:
AL BAGHDADI: ISIS CALIPH AND MOSSAD-CIA AGENT HIDDEN BY US
&&&
Another related news from Sputnik News:
Kremlin: Russia Has Information CIA Works With Alexei Navalny, Sends Instructions to Him
By Oleg Burunov
Moscow has repeatedly stressed Berlin lacks evidence to back up its allegations that Russian opposition figure Alexei Navalny was poisoned with a nerve agent from the Novichok group.
Russia's presidential spokesman Dmitry Peskov on Thursday said Moscow has information that Russian opposition figure Alexei Navalny is collaborating with the US Central Intelligence Agency (CIA).
The bombsell statement comes hours after the Russian opposition politician, who is currently in Germany, claimed that Vladimir Putin was behind his alleged poisoning.
"This is not the patient who works with the Western special services — these are the Western special services who work with him, this is a more precise wording. Yes, we do have such information, I can even be more specific: CIA staffers are working with him today. It is not the first time that he receives different instructions," Peskov told reporters.
The spokesman also pointed out that as far as Navalny's accusations against President Putin are concerned, they hold no water.
"We think that such accusations against the Russian president are absolutely groundless and unacceptable. Moreover, we consider some of the statements in the aforementioned article insulting, extremely insulting and unacceptable. We want to investigate the case with the Berlin patient and determine the reasons for what happened. To do that, we need to get the information from those who found traces of the poisoning in the analysis", Peskov told reporters.
Earlier in the day, Navalny told the German magazine Der Spiegel that he "insists" "Putin is behind the crime and I don't" have any other versions of what happened".
When asked if Putin was involved in saving Navalny's life, Peskov, in turn, said he could not confirm this, adding, "I know with certainty that Omsk doctors were involved in saving" the Russian opposition figure.
Following the announcement, Navalny took to his Telegram channel to say he was "filing a lawsuit against Peskov" over the statement of his link to the CIA, demanding to provide "evidence and facts" of his collaboration with western intelligence.
Navalny Case 
Last month, President Putin told his French counterpart Emmanuel Macron during a phone conversation that groundless accusations against Moscow regarding the situation around Navalny were unacceptable, and that Germany needed to share its case materials with Russia so that the situation could be clarified.
Earlier, Moscow stated Russian doctors had found no toxic substances in Navalny's system before he was transported to Germany, adding that Berlin had provided no evidence to support its claims that Navalny's condition was the result of poisoning by a military-grade nerve agent from the Novichok group.
Russia underscored that it had not produced any Novichok group substances since the the Organisation for the Prohibition of Chemical Weapons (OPCW) verified the destruction of the country's chemical weapons stocks in the early 1990s.Navalny fell gravely ill while on a flight from Siberia to Moscow on 20 August.
He was then placed in a hospital in the Siberian city of Omsk, where Russian doctors waged an uninterrupted struggle for his life, as he went into a coma and was put on an artificial lung ventilator. Two days later, Navalny was transported to the Berlin-based Charite clinic for further treatment.