Syria, Iraq Respond to US Attempts to Prolong Its Occupation of Region

While Trump declared last week to remove 2,000 ground troops from Syrian territory, he stated that he had no intentions of evacuating the nearly 5,200 forces from Iraqi territory.
Resistance factions in Iraq were hesitant to cheer on the US decision, wary of the speed and urgency of the withdrawal amidst unchanging geostrategic objectives.
A statement issued by the Hash al-Shaabi resistance group warned that the swift pull-out can signal intentions to further destabilize the area.
"Our forces which are positioned in Nineveh are fully ready," deputy head of the Nineveh Operations Command, Haider Adel said Tuesday. "The US moves to pull out troops and pave the way for ISIL operatives to get into Iraqi territory are not new."
That same day, two Iraqi civilians were killed and 11 others injured in a car bomb in Tel Afar. ISIS claimed responsibility for the attack, the first since Iraqi popular forces reclaimed the town last year.
Iraqi political analyst and strategic expert Ahmed al-Sharifi told Russian news outlet Sputnik that America plans to install bases in northern Iraq, keeping involved in Syria from military locations in Erbil.
What was supposed to be a secret deployment ended up leading to the location of troops becoming revealed following a Twitter post the president made showing him posing alongside soldiers.
In response, the Iraqi Prime Minister refused to meet with Trump after the US president's uninvited visit Wednesday to US troops currently stationed in Iraq resulted in the discussion between the US and Iraqi heads of state reduced to a telephone call.
Sources cited "disagreements" over "how to conduct the meeting," which was viewed as on the US's terms, as the cause for the Iraqi secretary general's refusal to meet with the US president.
Additionally, his response also called for an immediate withdrawal of US forces from Iraqi soil, emphasizing that Iraq will not be used as a military base to launch attacks on neighboring countries.
Syrian state forces also authorized Iraqi military forces to hit IS targets in Syria, giving permission to Iraq to not have to seek prior approval before launching the strikes.
"The idiot Trump must realize that the sovereignty of Iraq came with blood and the rules are not built in a country of resistance and martyrs," one leader said, according to Beirut-based Yemeni news outlet Al-Masirah. "It is now the duty of the government to expel American forces as a violation of the sovereignty of the country."
Though Iraq and the US forces cooperated in 2014 eliminating ISIS, US presence following Iraq's December 2017 declaration of relative victory from ISIS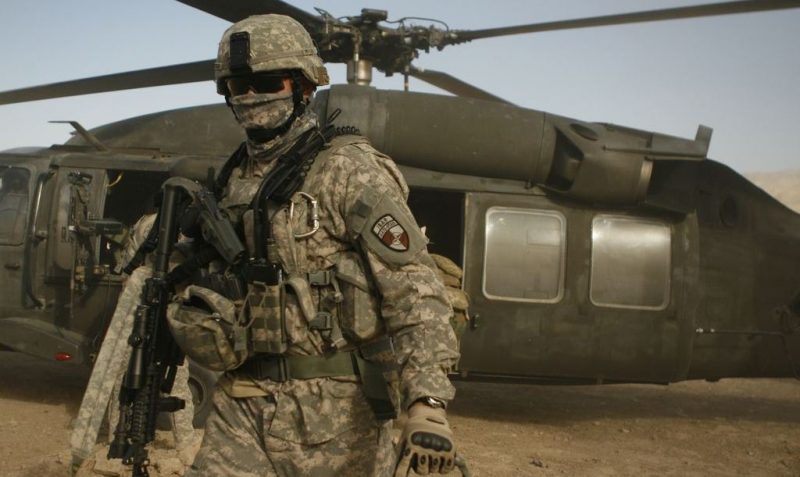 On December 10, Iraq warned on the necessity of tightening the border between itself and Syria, ordering its armed forces to take the necessary precautions to maintain security against percolations by ISIS and other jihadist groups into its territory.
Trump also added Wednesday that he intends to station troops in Iraq "if we wanted to do something in Syria" adding that he intends to "go back and help" Turkey and Saudi Arabia financially and militarily with the effort.
Meanwhile, Turkey has already moved to occupying Syria's eastern region with proxy armies positioning itself in a final face-off against the YPG.
Since the United State's withdrawal, which followed an agreement between Ankara and Washington that involved Washington stopping its supporting presence of SDF (the umbrella organization that includes the YPG) in Manbij, Turkey has been flooding eastern Syria with rebel groups positioning themselves to take out the Kurdish factions.
Turkish media reported Tuesday that rebel groups, like the Free Syrian Army, have already begun to roll into East Syria, prepared to assist in Turkey's upcoming Manbijoffensive against the militias.
Yet Turkey and their proxies faced a swift defeat Friday when the Syrian Arab Army reclaimed the area after the Kurdish groups called in the government for assistance after withdrawing.
The scenario is a repeat of the Afrin offensive in March when the US put itself at odds with its NATO ally by remaining dedicated to defeating ISIS and securing territory through the Syrian Democratic Forces, considered a terrorist group by Ankara.
Betrayed by the US once more, Kurdish militias have begun to open up the possibility of talks and negotiations with Russia and Syria.
Despite the US's ambitions to prolong its presence and influence in shifting from Syrian to Iraqi territory, Syria has taken large strides in stabilizing itself diplomatically after a nearly eight-year-long war.
This week, Syria opened up its embassy with the United Arab Emirates (UAE) after over 7 years.
The Arab League is also set to readmit Syria in 2019 after 8 years of expulsion.
By Julia "Samar" KASSEM
The 21st Century