SEOUL, South Korea — President Moon Jae-in of South Korea urged the United States on Thursday to declare an end to the Korean War as an incentive for North Korea to denuclearize, a call that could put the Trump administration in a bind as it tries to revive stalled talks with Kim Jong-un, the North's leader.
Mr. Moon said that during his landmark three-day summit meeting with Mr. Kim this week, the North's leader had repeatedly expressed willingness to give up his nuclear weapons quickly and to build new relations with Washington.
"He again and again reaffirmed his commitment to denuclearization," Mr. Moon said at a news conference in Seoul, the South's capital, after returning from North Korea. "He said he wanted to achieve complete denuclearization as soon as possible and focus on economic development."
To "expedite denuclearization," Mr. Moon said, Mr. Kim also hopes to meet Secretary of State Mike Pompeo in Pyongyang, the capital of North Korea, and to hold a second meeting with President Trump as soon as possible. Mr. Trump and Mr. Kim first met in Singapore in June.
One of the first steps Mr. Kim wants to take before moving toward denuclearization, Mr. Moon said, is to secure a joint statement declaring an end to the 1950-53 Korean War, which was halted only with an armistice.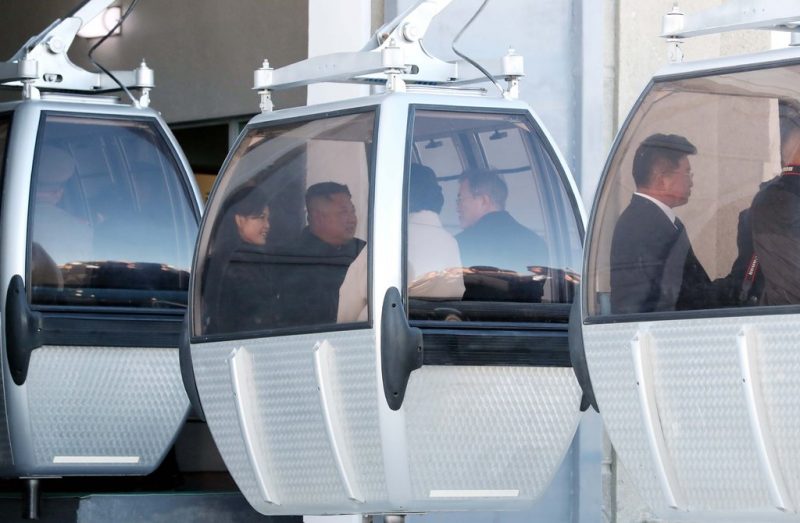 American and South Korean analysts express fear that such a declaration would give Mr. Kim reason to demand that the United States withdraw its 28,500 troops from the South while North Korea is still a nuclear-armed state. But Mr. Moon said it would be merely a "political statement," and that it would not affect the status of American troops in South Korea or his country's alliance with the United States.
"I confirmed with Chairman Kim that his concept of the end-of-war declaration is the same as mine," Mr. Moon said.
The South Korean leader said he would discuss making such a declaration by the end of the year when he meets with Mr. Trump in New York on Monday for the annual United Nations General Assembly session.
Earlier on Thursday, Mr. Moon and Mr. Kim ascended Baekdusan, a still-active volcano near North Korea's border with China that reaches more than 9,000 feet and looms large in the history and imaginations of Koreans on both sides of the border.
Baekdusan, sometimes called Mount Paektu in English and known as Changbaishan in Chinese, is the mythical birthplace of the Korean people. The visit there by the leaders of the divided peninsula punctuated their avowed intent to improve and normalize relations.

"This is an important first step," Mr. Moon, an avid hiker who said he had long dreamed of climbing the mountain, told reporters at the peak. "I trust that the time will come when ordinary South Koreans will be able to come here on tours."
Mr. Kim also said that he hoped South Koreans would soon be able to visit the mountain. "Since the division of Korea, people in the South have had a longing for the mountain but could not come."
The visit offered both leaders an important photo opportunity and a propaganda victory. For Mr. Kim, Mr. Moon's trip was a visit to the purported heart of the North's Communist revolution, the site at which his grandfather, Kim Il-sung, led a guerrilla war against Japanese colonialists in the early 20th century, and where his father, Kim Jong-il, was born, according to North Korean propaganda. (Historians say Kim Jong-il was born in the Russian Far East, not in Kim Il-sung's "secret camp" at the foot of Baekdusan, as the North claims.)
North Korean schoolchildren and party cadets are sent on pilgrimages to the mountain, where they swear their loyalty to Mr. Kim, whose family claims to be of a "Baekdu bloodline." The lake at the mountain's peak, called Cheonji, or "Heavenly Lake," appears frequently in the North's propaganda. When Kim Jong-il died in 2011, the North's state news media claimed that the thick ice on the lake cracked "so loudly, it seemed to shake the heavens and the Earth."
For Mr. Moon, photographs from the mountain were a signal to constituents in the South that he was making real gains in pursuing peace with the North, and that they, too, could one day visit the sacred summit.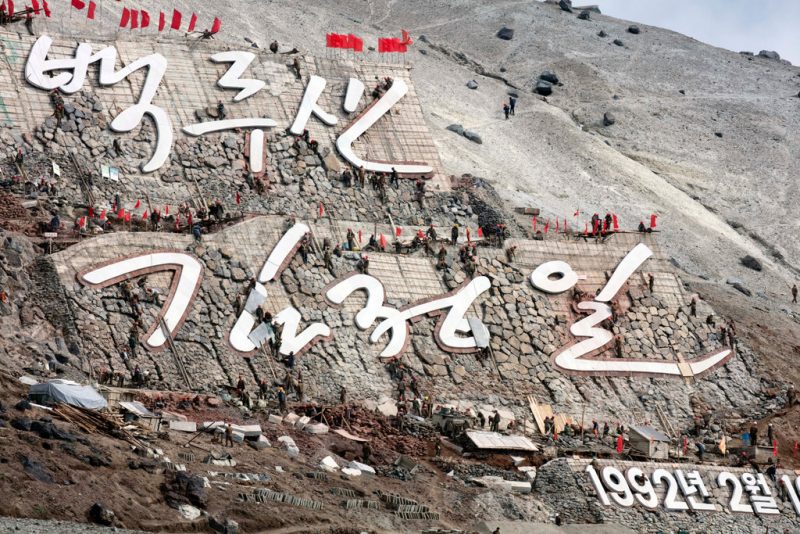 In South Korea, the national anthem opens with a reference to Baekdusan, and walls of government offices are decorated with panoramic pictures of Cheonji. Each year, thousands of South Koreans go on pilgrimages to the mountain, which straddles the North's border with China. Barred from traveling to North Korea, they climb the Chinese side of the mountain, some carrying South Korean flags, to the evident annoyance of Chinese border patrols.
Mr. Moon and Mr. Kim were accompanied Thursday by their wives, and drove most of the way up the mountain. They also rode a cable car into the crater to visit Cheonji.
Mr. Moon's visit to the North was met with cautious optimism in Washington.
"We had very good news from North Korea, South Korea," Mr. Trump said on Wednesday. "We're making tremendous progress with respect to North Korea."
However, South Korean conservatives fear that Mr. Moon's overtures toward rapprochement have been made at the expense of securing a deal to end the North's nuclear weapons program.
Mr. Moon and Mr. Kim on Wednesday signed a series of agreements that Choi Jong-kun, Mr. Moon's secretary for arms control, called a "de facto nonaggression treaty."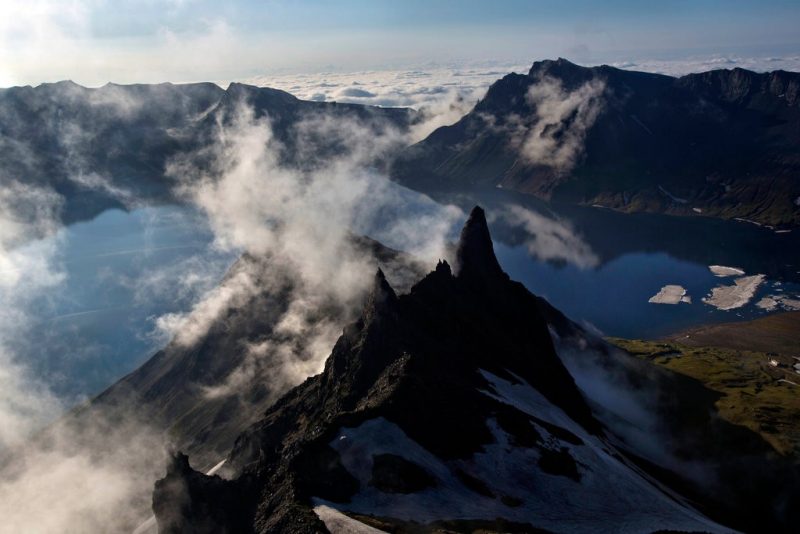 Both sides agreed to create no-fly and no-hostility zones and to stop live-fire drills along their land and sea border. They also agreed to disarm Panmunjom, the truce village in the heavily fortified Demilitarized Zone, where North Korean troops fired a hail of bullets at a North Korean soldier who defected to the South last year.
Mr. Moon and Mr. Kim also agreed to open a facility near Mount Kumgang, in the southeastern part of North Korea, where relatives separated by the Korean War could hold regular reunions, and they said they would make a joint bid to host the 2032 Olympics.
But Mr. Moon was accused by critics of being more interested in cultivating Pan-Korean unity than in removing the North's nuclear weapons.
North Korea proposed to "permanently dismantle" its main nuclear complex, but only if Washington took "corresponding" measures, and the statement lacked concrete steps like submitting an inventory of the North's nuclear assets and then disassembling them under international inspection.
"This is an empty statement lacking any real measures for denuclearization of the North," said Yoon Young-seok, a spokesman for the main conservative opposition in the South, Liberty Korea Party. "The no-fly zones along the border would seriously undermine our military's ability to operate reconnaissance flights and gather visual intelligence on the North."
On Thursday, Mr. Moon said he had discussed a step-by-step sequence toward denuclearization with Mr. Kim, as well as what the North wanted from Washington in return. He said he and Mr. Kim could not include those details in their joint statement because they had to be negotiated between the North and the United States.
Officials in Mr. Moon's government say that improved relations with the North are an important first step toward denuclearization.
"This is no small progress," said Lee Do-hoon, South Korea's top nuclear negotiator. "I think this is proof of what our government has explained all along, that improvement in inter-Korean relations can lead to progress between the North and the United States."
By Choe Sang-Hun
The article was originally published by The New York Times
The 21st Century