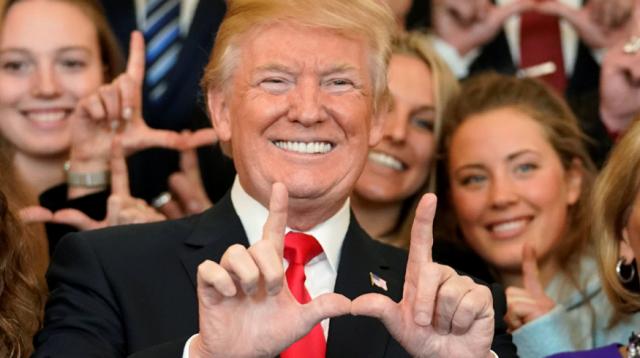 People on Twitter mocked President Donald Trump after he boasted that his nuclear launch button was "much bigger" than North Korean dictator Kim Jong Un's.
Trump issued the taunt via Twitter on Tuesday night:
Donald J. Trump @realDonaldTrump
North Korean Leader Kim Jong Un just stated that the "Nuclear Button is on his desk at all times." Will someone from his depleted and food starved regime please inform him that I too have a Nuclear Button, but it is a much bigger & more powerful one than his, and my Button works!
It followed Kim Jong Un's New Year's address, in which he warned the United States against threatening his country.
************
……..
Stephen Colbert
Please don't make me picture your "Button."  …also don't start a nuclear war, you "Buttonhead." 
Jason O. Gilbert
TRUMP: So this button launches a nuclear warhead?
GEN. KELLY [handing him a Staples Easy! button with the word BOMB scrawled across it in Sharpie]: Absolutely
Chuck Wendig
JESUS CHRIST ON A CROISSANT THIS IS NOT PRO WRESTLING YOU DISEASED FUCKING TESTICLE
THIS IS NUCLEAR WAR AND WINTER YOU ARE JOKING ABOUT
AHHHHHHH
DL @davelozo
Trump, at his desk with his finger over a giant red circle from a piece of a Twister mat: I swear to god I will press this giant button! 
Seth MacFarlane
When young men become old men, the best acquire wisdom: The wisdom to know when to teach and when to learn, when to speak and when to listen, when to lead and when to follow, when to fight and when to make peace. You are age without wisdom, old man. I hope I'm never like you. 
niki
IT'S LITERALLY DAY 3 OF 2018 ARE YOU KIDDING ME 
Stephen Smiley
Button measuring contest 
Tony Posnanski
What if Donald Trump gets confused with the nuclear war button on his desk with the someone get me a Diet Coke button on his desk?
Ben Jacobs
I remember when these fights were about hand size and not nuclear button size 

Ben White
Simon Maloy
DID YOU GET THE DOUBLE MEANING THERE
WHEN I SAY BUTTON I'M ACTUALLY REFERRING TO SOMETHING ELSE
SOMETHING THAT ISN'T A BUTTON IN MY PANTS IT'S MY GENITALS (PENIS)
……………..
****
Others, however, saw the serious nature of Trump's post, which they said could be interpreted as a threat of nuclear war:
……….
[Read more tweets from the article, please click here: https://www.yahoo.com/news/tweeters-ridicule-donald-trump-bragging-083033165.html]
Others, however, saw the serious nature of Trump's post, which they said could be interpreted as a threat of nuclear war
Lee Moran, HuffPost
This article originally appeared on HuffPost
The 21st Century