President Xi Jinping rallied thousands of China's troops for a military address and grand display of strength on Wednesday morning.
At 10 a.m. in the northern province of Hebei, Xi told 7,000 heavily armed officers and soldiers standing in formation that they should not fear "hardship or death" as they fight for their country's Communist values.
The address was simultaneously broadcast to 4,000 other military bases across the country—spanning China's army, navy and air forces—who were ordered to watch Xi's address via a live feed, according to the state-owned Xinhua News Agency.
During his speech, Xi encouraged the troops to "enhance their military training and combat readiness" to "grasp the capability to win battles" as dictated by the Chinese Communist Party (CCP).
"Commanders and personnel should firmly implement the decisions and instructions by the CPC Central Committee and the CMC (Central Military Commission) with a fighting spirit of fearing neither hardship nor death," Xi said.
The military "should also train hard in a scientific way, be brave to overcome difficulties and surpass opponents, and create an elite and powerful force that is always ready for the fight, capable of combat and sure to win in order to fulfill the tasks bestowed by the Party and the people in the new era," he added.

Xi then called for leading officers to set an example for their troops and implement rigorous combat training throughout the forces.
"The armed forces should conduct training in fine work style, innovate method and improve support to training, tighten up supervision, and hold events of mass training for the soldiers," Xi said.
Most popular: Trump White House Staff and Guests Banned From Using Personal Phones in West Wing
According to a front page report in The People's Daily, the officers proudly sang the People's Liberation Army military song in unison before welcoming Xi onto the stage with thunderous applause.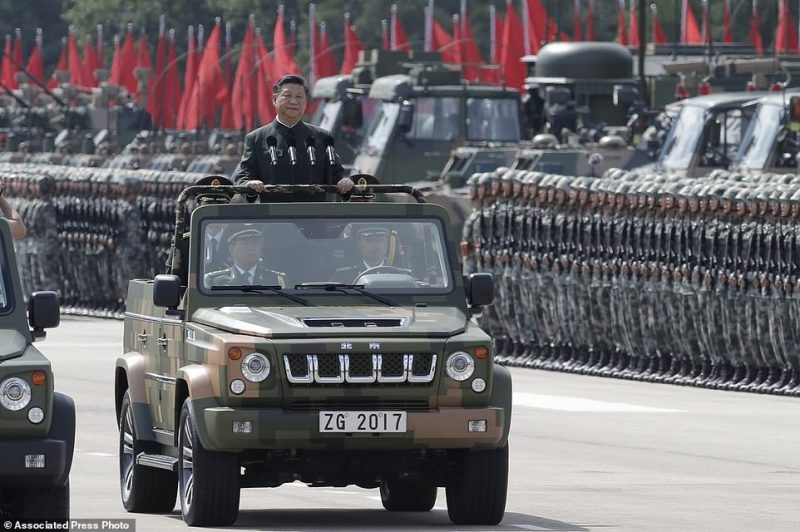 Xu Guangyu, a retired major general, told Chinese nationalist tabloid paper The Global Times that the Wednesday address marked "the first time since the founding of the country that instructions on military training have been directly issued by the chairman of the CMC, and it shows that improving combat readiness is now a strategic mission for the Chinese military."
The event follows escalating fears of conflict in the region amid rising tensions between North Korea and the U.S.
During his new year address to the country North Korean leader Kim Jong Un said that its nuclear arsenal is complete and added that he always had a nuclear button on his desk.
In response, President Donald Trump tweeted on Wednesday that North Korea is a "depleted and food starved regime" and that he also had a nuclear button, one that is "much bigger & more powerful one than his, and my Button works!".
By Christina Zhao, Newsweek
This article was first written by Newsweek
The 21st Century
&&&
A related news from The Independent:
Xi Jinping tells Chinese army to fear 'neither hardship nor death' as he consolidates power base
https://www.yahoo.com/news/xi-jinping-tells-chinese-army-171253487.html