During last week of 2014 Israel killed one Palestinian boy and injured 40, of whom 24 were children and two women.
This brings the number of Palestinians killed in 2014 by Israel in the West Bank to 49, of whom 12 were children, according to the United Nations.
On 29 December, Israeli forces shot and killed 16-year-old Imam Jamil Ahmad Dweikat and injured two other 16-year-olds with live ammunition, near the main road between the Za'tara checkpoint and the Nablus-area village of Osarin.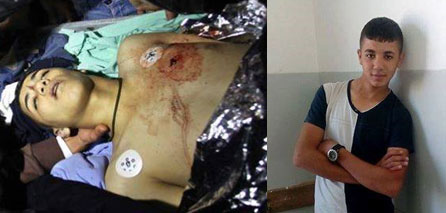 1190 Palestinian children were injured in the West Bank in 2014, according to the UN Office for the Coordination of Humanitarian Affairs in the occupied Palestinian territory.
Children thus accounted for some 20 percent of all Palestinians injured by Israeli forces during the year.
280 of these children were injured during July in the Jerusalem district following the kidnapping and murder of 16-year-old Mohammad Abu Khdeir on 2 July.
Over 20 percent of children were injured by live ammunition, while the others were hurt by rubber-coated steel bullets, tear gas inhalation and physical assault.

alternativenews.org
http://www.alternativenews.org/english/index.php/news/331-1190-children-injured-in-west-bank-in-2014