The situation in Israel and Palestine continues to grow worse on both sides. First you had the savage murder of three Israeli teens. Then you had the retaliation burning of a Palestinian teenager. Now protests are erupting all over Israel and the world on both sides.
Some of the coverage is focusing on statements made by Israeli lawmaker Ayelet Shaked on Facebook that day before three Israeli men went out and picked up Muhammad Abu Khdeir, 16, at random and burned him alive. Shaked's post calls Palestinians "little snakes" and declares that "the entire Palestinian people is the enemy."
Now comments by Israeli Knesset member Ayelet Shaked has caused an international outcry includingcontributing to a continuing rift with Turkey. Turkey's Prime Minister Recep Tayyip Erdogan has denounced the remarks and denounced Israel in an analogy to the Nazi regime. The situation is clearly getting worse by the day in the region.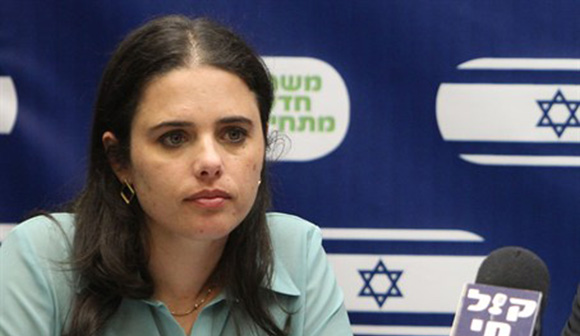 Ayelet Shaked is a member of the ultra-nationalist Jewish Home party, which is part of the ruling coalition. She is quoted as calling for the slaughter of Palestinian mothers who give birth to "little snakes." Shaked posted a screed on Facebook that various critics are denouncing as a call for genocide. Shaked reportedly stated:
"They have to die and their houses should be demolished so that they cannot bear any more terrorists . . . are all our enemies and their blood should be on our hands. This also applies to the mothers of the dead terrorists."
The Facebook posting stated:
"Behind every terrorist stand dozens of men and women, without whom he could not engage in terrorism. They are all enemy combatants, and their blood shall be on all their heads. Now this also includes the mothers of the martyrs, who send them to hell with flowers and kisses. They should follow their sons, nothing would be more just. They should go, as should the physical homes in which they raised the snakes. Otherwise, more little snakes will be raised there."
Her comments have become the focus of the rising protests over Israel's response to the killing of the teenagers and later rockets attacks. Turkey's Prime Minister responded with to the comments and later Israeli retaliatory strikes with a charge that Israel is now engaging state terrorism. He drew an analogy that itself is likely to enrage many Israelis:
"An Israeli woman said Palestinian mothers should be killed, too. And she's a member of the Israeli parliament. What is the difference between this mentality and Hitler's?"
Shaked holds degree in electrical engineering and computer sciences and she worked in marketing for Texas Instruments. She has past ties to Benjamin Netanyahu. From 2006-2008, she was the office director for the office of Netanyahu.

She then established "My Israel" with Naftali Bennet, but in January 2012 she was elected to serve as the coordinator of Likud. She later became a Knesset member for the Jewish Home Party, a successor party to the National Religious Party.
The party is committed to a nation governed by Jewish law under the belief that Jews are divinely ordained to rule over the Land of Israel. The party has been active in supporting the expansion of Jewish settlements in Palestinian terrorizes and largely represents Orthodox Jews according to news report.
Here is what has been posted as a full translation of Shaked's statement:
"The Palestinian people has declared war on us, and we must respond with war. Not an operation, not a slow-moving one, not low-intensity, not controlled escalation, no destruction of terror infrastructure, no targeted killings. Enough with the oblique references. This is a war. Words have meanings. This is a war. It is not a war against terror, and not a war against extremists, and not even a war against the Palestinian Authority. These too are forms of avoiding reality. This is a war between two people. Who is the enemy? The Palestinian people. Why? Ask them, they started.
I don't know why it's so hard for us to define reality with the simple words that language puts at our disposal. Why do we have to make up a new name for the war every other week, just to avoid calling it by its name. What's so horrifying about understanding that the entire Palestinian people is the enemy? Every war is between two peoples, and in every war the people who started the war, that whole people, is the enemy. A declaration of war is not a war crime. Responding with war certainly is not. Nor is the use of the word "war", nor a clear definition who the enemy is. Au contraire: the morality of war (yes, there is such a thing) is founded on the assumption that there are wars in this world, and that war is not the normal state of things, and that in wars the enemy is usually an entire people, including its elderly and its women, its cities and its villages, its property and its infrastructure.
And the morality of war knows that it is not possible to refrain from hurting enemy civilians. It does not condemn the British air force, which bombed and totally destroyed the German city of Dresden, or the US planes that destroyed the cities of Poland and wrecked half of Budapest, places whose wretched residents had never done a thing to America, but which had to be destroyed in order to win the war against evil. The morals of war do not require that Russia be brought to trial, though it bombs and destroys towns and neighborhoods in Chechnya. It does not denounce the UN Peacekeeping Forces for killing hundreds of civilians in Angola, nor the NATO forces who bombed Milosevic's Belgrade, a city with a million civilians, elderly, babies, women, and children. The morals of war accept as correct in principle, not only politically, what America has done in Afghanistan, including the massive bombing of populated places, including the creation of a refugee stream of hundreds of thousands of people who escaped the horrors of war, for thousands of whom there is no home to return to.
And in our war this is sevenfold more correct, because the enemy soldiers hide out among the population, and it is only through its support that they can fight. Behind every terrorist stand dozens of men and women, without whom he could not engage in terrorism. Actors in the war are those who incite in mosques, who write the murderous curricula for schools, who give shelter, who provide vehicles, and all those who honor and give them their moral support. They are all enemy combatants, and their blood shall be on all their heads. Now this also includes the mothers of the martyrs, who send them to hell with flowers and kisses. They should follow their sons, nothing would be more just. They should go, as should the physical homes in which they raised the snakes. Otherwise, more little snakes will be raised there."
Professor Jonathan Turley is a nationally recognized legal scholar who has written extensively in areas ranging from constitutional law to legal theory to tort law. http://jonathanturley.org
Israeli Masters Of Propaganda