As the House of Representatives is dragged closer to a vote on authorizing air strikes against Syria, it's becoming increasingly clear that the majority of the votes will need to come from Democrats or the resolution will fail.
Just how made up are the minds of Republicans? This photo, snapped by a Democratic Hill staffer and passed on to HuffPost, tells the tale.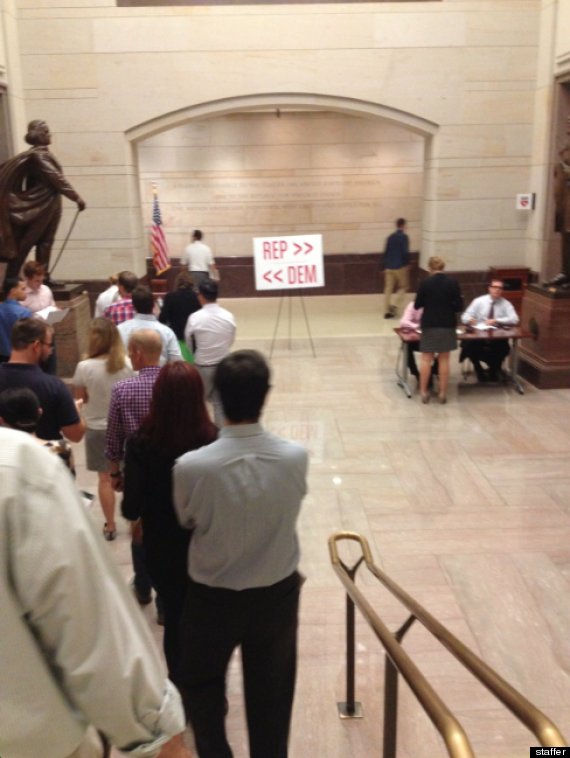 It's a staff briefing hosted by the United States ambassador to Syria, Robert Ford, with a line of Democratic aides stretching down the hall. The quickest way to get in, meanwhile, would've been to call yourself a Republican. GOP leadership is ostensibly on board for the strikes, but has made it clear that it is Obama's job to persuade Congress of their wisdom.
"Rs have already made up their minds," concluded the aide who snapped the photo outside the Capitol Visitor Center auditorium at 4:15 p.m. as the event was scheduled to start.
House Speaker Nancy Pelosi (D-Calif.), who supports strikes in Syria, will need more than a 100 of her caucus members to approve the resolution. The latest vote count has well more than 200 members of the House leaning no, but the administration still has time.

5%
95%
The Senate Resolution to authorize the limited and tailored use of the US Armed Forces …

The Huffington Post  |  By Ryan Grim
http://www.huffingtonpost.com/2013/09/05/syria-staff-briefing_n_3877211.html