The New York Times Op-ed piece
Which of the following countries does not guarantee its citizens the right to vote?
Is it:
(A) Iran
(B) Libya
(C) The United States
(D) All of the above.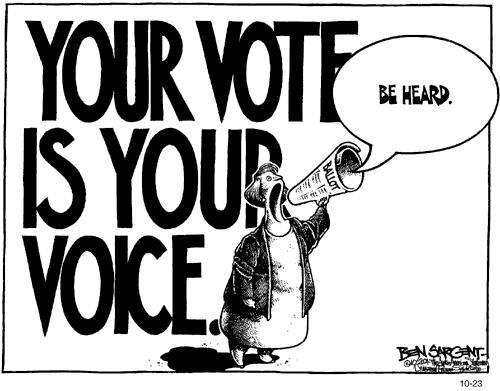 If you guessed "all of the above," you're right. Yes, the United States is one of only a handful of nations whose constitution does not explicitly provide the right to vote. (Singapore is another, but it doesn't even allow you to chew gum on the street.)
I imagine you're surprised. I know I was. Think of all that hard work our founding fathers put in — the revolutionizing, the three-fifths compromising, having to write the entire Constitution with a quill — and yet they neglected to include the right to vote. (I know, it was a long, hot summer. Hard to stay focused.)
It got me thinking: What else don't I know about voting in our country? How does voting really work — or sometimes not work — in America?
So I did what any concerned citizen would do when trying to get to the bottom of things: I teamed up with some documentary filmmakers, took a road trip across America, and created "Electoral Dysfunction," a feature-length documentary from which this Op-Doc — the first in a series of four — is adapted.
Along the way I met all kinds of people at the heart of our nation's elections — voters, election workers, elected officials, even "electors" (you know, the guys and gals who end up picking the president).
Spoiler alert: The way we run elections in this country is, as kids today might say, totally busted. Because the Constitution leaves key decisions about voting to the states, what we think of as our "electoral system" is really a crazy quilt of local, state and federal systems: 13,000 different voting districts, in fact, each with its own rules and regulations.
In Iowa and Minnesota, you can register and cast a ballot on the very same day. In North Dakota, you don't even have to register — you just vote. In Oregon, there's no actual place to show up and vote — you do it all by mail.
And if you live in the District of Columbia, you can vote for president but not for a voting representative in Congress. Instead, your "voice" in Congress is called a delegate, and the delegate is not allowed to vote on the House floor.
As a result, taxation without representation remains a reality for the 600,000 Americans who live in our nation's capital. (Ah, irony.)
Did I end up finding a little blue pill to cure America's electoral dysfunction? Unfortunately, it's not that simple. But I do hope that just as my journey sparked in me a real curiosity about our nation's electoral system, this Op-Doc will get you and your friends talking about voting and voting rights in America.
Because when it comes to constitutional guarantees and such, shouldn't we be keeping better company than Libya and Iran? I mean, sure, they're nice places to visit — but I wouldn't want to get stuck without a vote there.
Mo Rocca is a political humorist and the host of "Electoral Dysfunction," a forthcoming feature-length documentary about voting in America. This essay was adapted from his foreword in the forthcoming book "Electoral Dysfunction: A Survival Manual for American Voters" by Victoria Bassetti.
The New York Times Op-ed, 9/2/2012