Decision to designate national transitional council as legitimate government is taking sides in civil war, says Moscow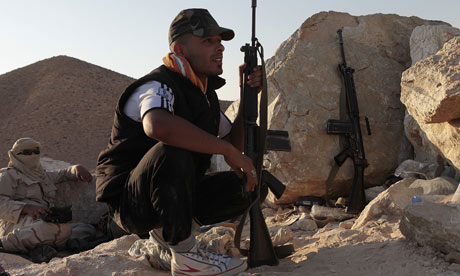 Rebel Libyan fighters face Gaddafi's troops near Bir Ghanem. Photograph: Alfred De Montesquiou/Getty Images
Russia has criticised the US and other countries for recognising the Libyan rebels' national transitional council as a legitimate government, saying they are taking sides in the civil war.
"Those who declare recognition stand fully on the side of one political force in a civil war," the Russian foreign minister, Sergei Lavrov, told reporters.
The US secretary of state, Hillary Clinton, announced the recognition of the rebels on Friday when she was in Turkey for a meeting of an international contact group on Libya.
The major diplomatic step could unblock billions of dollars in frozen Libyan funds for the campaign to end the 41-year rule of Muammar Gaddafi, who has resisted Nato bombing for nearly four months.
Russia, along with China, has taken a softer line towards Gaddafi. They were both invited to the Istanbul contact group meeting but did not attend.
"Supporters of such a decision are supporters of a policy of isolation, in this case the isolation of those forces that represent Tripoli," said Lavrov, adding that Moscow was in contact with both Tripoli and the rebels.
Russia abstained from voting on a resolution that authorised western force against Gaddafi to protect civilians. It has increasingly criticised the scope of the Nato campaign as well as the role of the Libya contact group.
Reuters
guardian.co.uk